Key Steps in a Strategic Sourcing Process
1 )
Access your Organizations current spending. What is bought, from where and at what prices.
2 )
Access the current supplier pool. Who are the key suppliers and their importance in the overall supply chain.
3 )
Analysis of the total cost of goods and services provided by your Organization
4 )
Identify the currently available supplier pool and the overall supply market
5 )
Development of an overall sourcing strategy (where and from whom to purchase, considering the current demand and supply markets, while minimizing risk and costs to your supply chain).
6 )
Negotiation with Suppliers on Costs, Service levels, Payment terms, etc.
7 )
Implementation of a new supply structure the provides the optimum cost to benefit ratio
8 )
Contracting
9 )
Track and measure results. Re-assess annually, providing continuous improvement to your supply chain.


ProcurePort provides a combination of Strategic Sourcing Software and Services to help organizations improve their supply chain management and generate cost savings.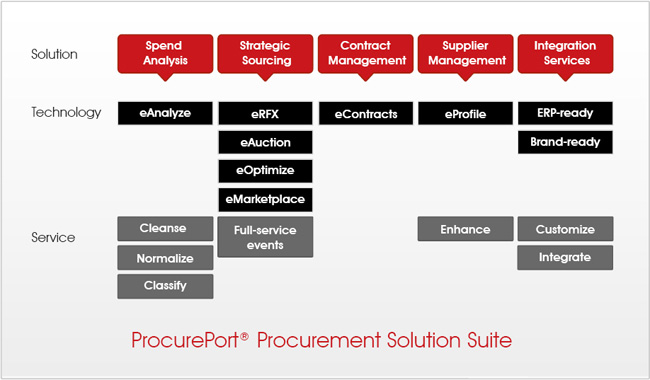 ProcurePort provides Strategic Sourcing services and software to assist with your strategic sourcing initiative.


Our services include:
Spend Analysis Service:


Let us handle the cleansing, categorization and analysis of your company spend. Get accurate and actionable reports to make strategic decisions.
Reverse Auction Service:


ProcurePort can fully mange your e-Sourcing event, whether it be a Reverse Auction or an RFI/RFQ. Let our team conduct the e-Sourcing event, including supplier training and full event setup/management followed by generation of final Bid analysis reports.
The Key components of the ProcurePort' s Strategic Sourcing Software are:
Spend Analysis Software:


A key step in the strategic sourcing process. The Spend analysis software allows the procurement team to get a detailed view into the organizations current spending providing the following insights:
Category level spend
Spend by supplier in each category
No. of suppliers in each category
Discovering opportunities for cost savings
RFI Software (Request for information)


The RFI software allows for the creation of basic or extensive surveys and questionnaires for assessing supplier capabilities as well as qualifications.


Key benefits of using a cloud hosted RFI Software:
Single point of access for all RFI documents
Issue surveys/questionnaires to all suppliers at once along with response deadlines
Automated scoring capabilities to evaluate and rank supplier responses
Review supplier responses anytime/anywhere and collaborate for supplier evaluation
Real-time response comparison to make award decisions
RFQ Software (Request for quote)


The ProcurePort cloud hosted RFQ software allows for the automation of collecting pricing/quotes from suppliers for a few items or several thousand items adding efficiency to your strategic sourcing process. No more using email and excel to collect quotes from your suppliers.
Key benefits of using a cloud hosted RFQ Software:
Collect quotes/bids for a few items or several thousand items from multiple suppliers via easy to use web based templates
Save time by ensuring suppliers comply with the quote response deadlines using the date/time feature of the software
Get quotes in a structured format from all suppliers and increase compliance
Real-time access to quotes as they are submitted by suppliers
Single point of access and storage of all quotes
Online, side-by-side comparison of quotes for making award decisions
Excel-to-Web conversion for easy and quick setup of new RFQ's using your existing excel templates.
Reverse Auction Software (e-Auction Software)


Use reverse auctions in your strategic sourcing process to further generate cost savings and decrease supplier negotiation times to hours instead of days.
The ProcurePort cloud hosted reverse auction software is an easy-to-use and implement. Key features of the e-Auction Software are:
Custom branded e-Sourcing Software platform with your Organizations logo and color schemes
Accessible via all popular browsers along with tablet and mobile phone access
Conduct e-Auctions for a few items or several thousand items spread across multiple lots and groups
Real-time dashboards for monitoring bid activity
Integrated message board and real-time chat for supplier communication
Bid analysis reports for simplifying award decisions
Purchase Order Software (P.O. Software)


ProcurePort' s integrated purchase order software allows your organizations sourcing team to automate the generation and issuance of Purchase orders to you vendors.
Use the cloud hosted P.O software to:
Directly issue Purchase Orders to selected vendors from the Request for Quote module or Reverse Auction module.
Get notification alerts or view P.O. acceptance by awarded vendor
Integrate ProcurePort with your internal ERP/Accounting system to directly generate a P.O automatically within your current accounting system.